Meet Chris
So you're in pain. My question for you is, do you want to just treat the symptoms or do you want to understand the root causes and want to truly get out of pain?
I promise both are possible. I understand that you may not be able to see that right now because the pain is unbearable.
I know, I know.
You just want to deal with the pain and root causes seem like they're gonna turn it into a long drawn out process. And maybe someone in the past promised this and you went to appointments 2 times per week for months or maybe years then hit a plateau. Or maybe you had surgery that seemed to help but then the symptoms came back. And you had to ask yourself, "Was that all really worth it?"
You went to legit health practitioners and totally trusted them. And now you're frustrated, right?
That's where I come in.
I help people in pain, people who want to avoid surgery, and athletes who were injured understand why they're in pain, get out of pain and stay out so they can go on to live even better lives. That really happens.
My special abilities happen to be in understanding and integrating modern pain neuroscience with old school hands on therapy and functional movement coaching.
But more importantly, I connect people back into their bodies after years of living in pain.
That's what I'm here to help you do.
My clients tell me that I inspire, enlighten, and empower them. And if you work with me know that you will not only get out of pain but you'll understand what you need to do to stay out. I will look, listen, and feel for the deeper causes, and together we will create new movement patterns that will forever change your view and experience of your body.
What once felt like overwhelmingly frustrating and mysterious can be totally obvious and accessible at any moment of your day.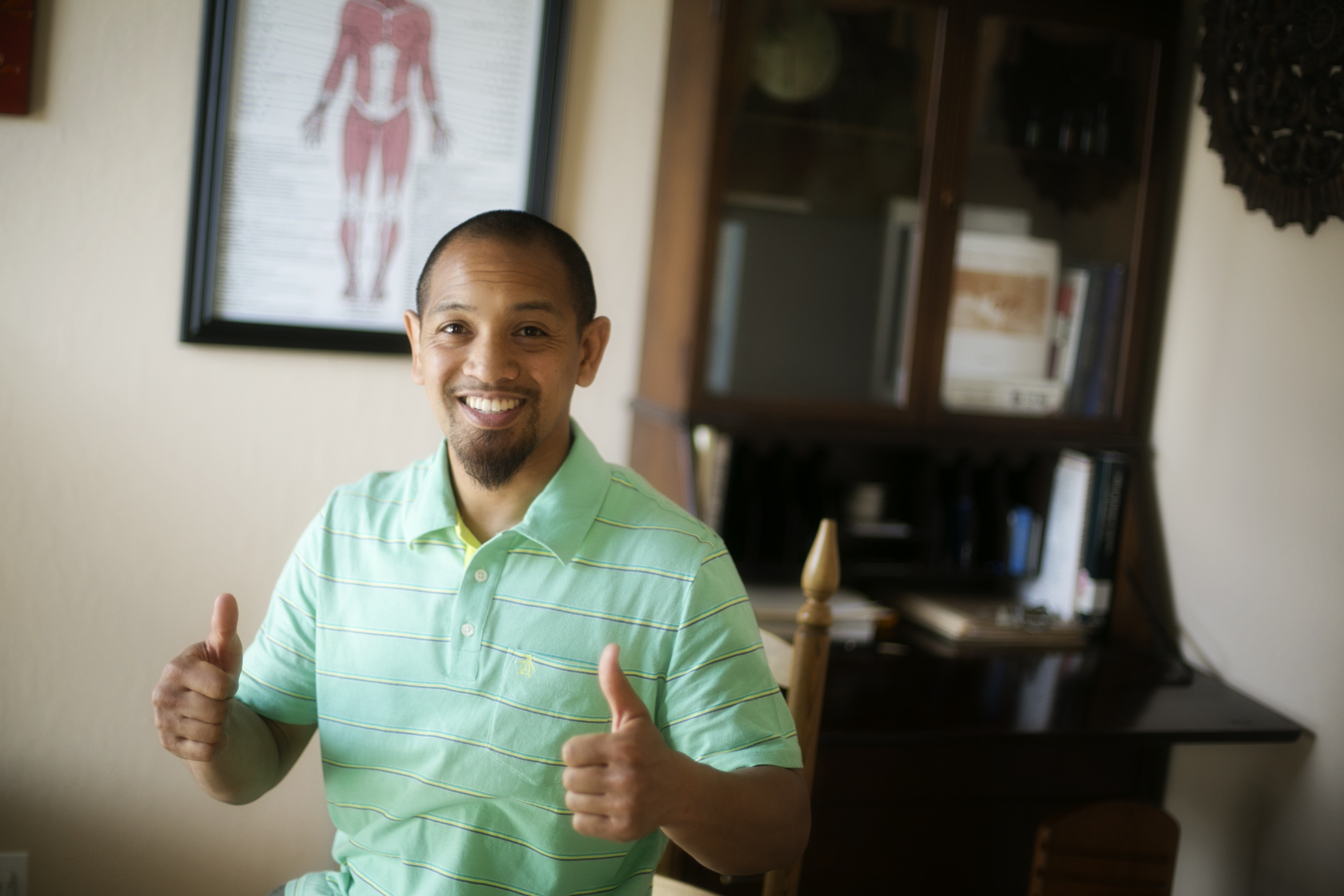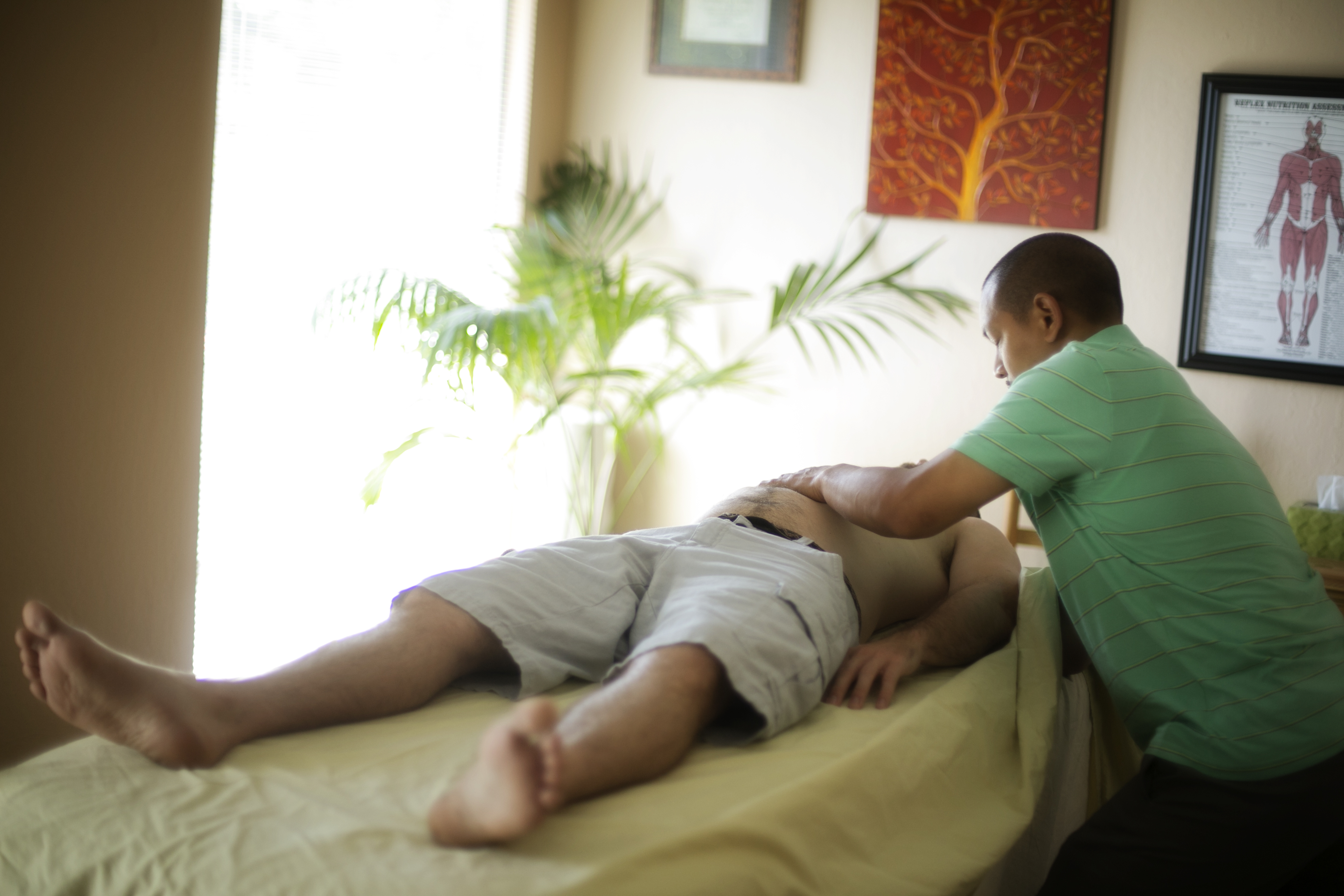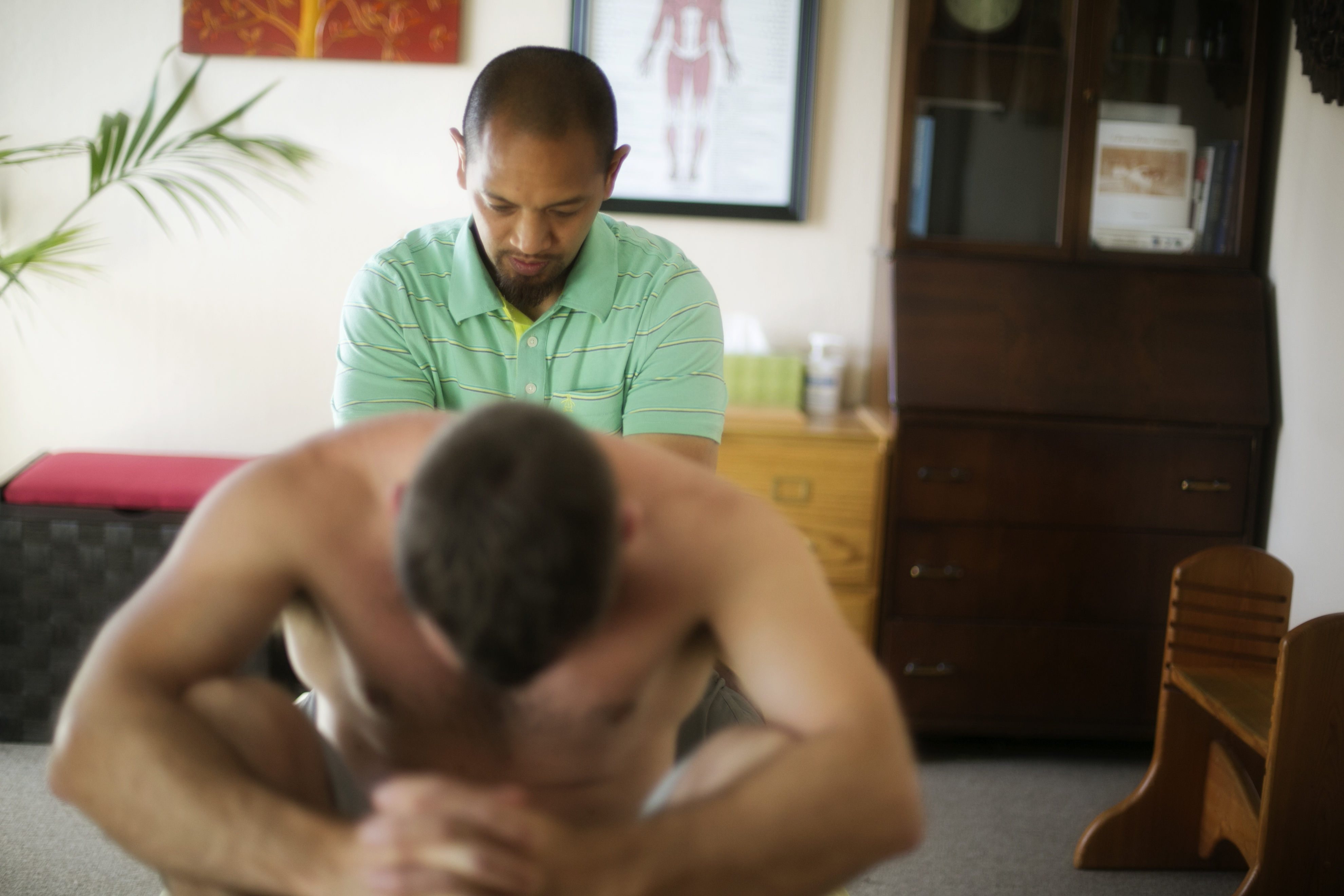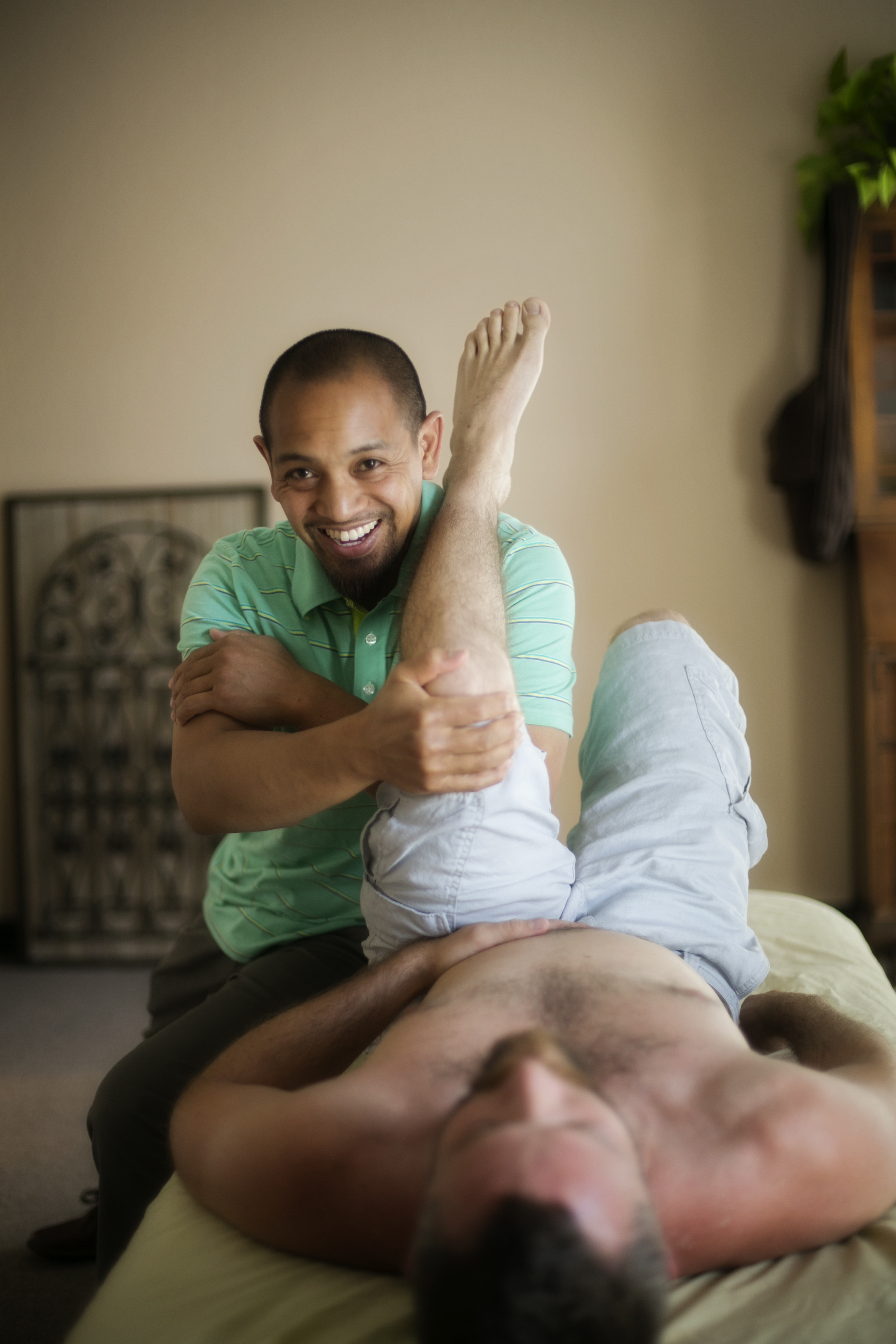 Wondering how I got here?
My favorite aunt passed away from cancer when I was 9 and I set out to heal the world in some way.

I have always been called a deep thinker and a compassionate healer. I studied Homeopathic medicine for 6 years. It honed my listening skills and enabled me to see beyond symptoms.  

I'm a husband and father of six children (all but 1 were born at home). My oldest Muhammad is my spiritual twin, spirituality is the essence of our being, he's 19. Nura, 17, is in the graduating class of 2021. She has worked through high school while maintaining good grades, is an esthetician and bought her own car (with a little bit of my help). I'm super proud of her because I wasn't there at her age. John is 15 and 6'1". As a freshman he wrestled varsity at heavyweight. Aisha is 7, she is my sweet-smart-sweetheart. She is a gifted athlete joining jiu-jitsu at 4 years old and hanging with the older kids, these days she's into swimming. Jibreel is 5, we visited Sea World for spring break and during the lead in to the Orca show he answered 9 of the 10 (adult) trivia questions (that had a 10 second time limit). Noah is almost 3 and he is all of them combined with a dash of insistence to get his way. Wow, that was a lot!

I was sponsored by the prince of Abu Dhabi to train jiu-jitsu there and represent his country in the first World Jiu-Jitsu tournament in Rio De Janiero, 1996. Today I have a black belt in jiu-jitsu.

I grew up in San Diego, CA on a dirt road with 30 goats and 50 chickens.

My spiritual inclinations lead me to convert to Islam. I did the Hajj pilgrimage in Saudi Arabia, and have visited saints in Morocco, and the deep formidable deserts of Mauritania and Yemen.  

I worked as a custom tile setter in residential applications for 8 years.

Through the many phases of life and iterations of self my goal has always been the same: to embody self-agency and change in order to help others do the same.

I have volunteered at the San Diego Pain Summit for 3 years where I drove guest speakers to and from the airport. The private connection and conversations became my favorite part of the summit.

For 3 years I have served on the Board of Directors for the International Association of Structural Integrators and 2020 was my first year in the seat as secretary. I'm also on the Law and Regulation committee.
3 Easy Steps To Be Pain-Free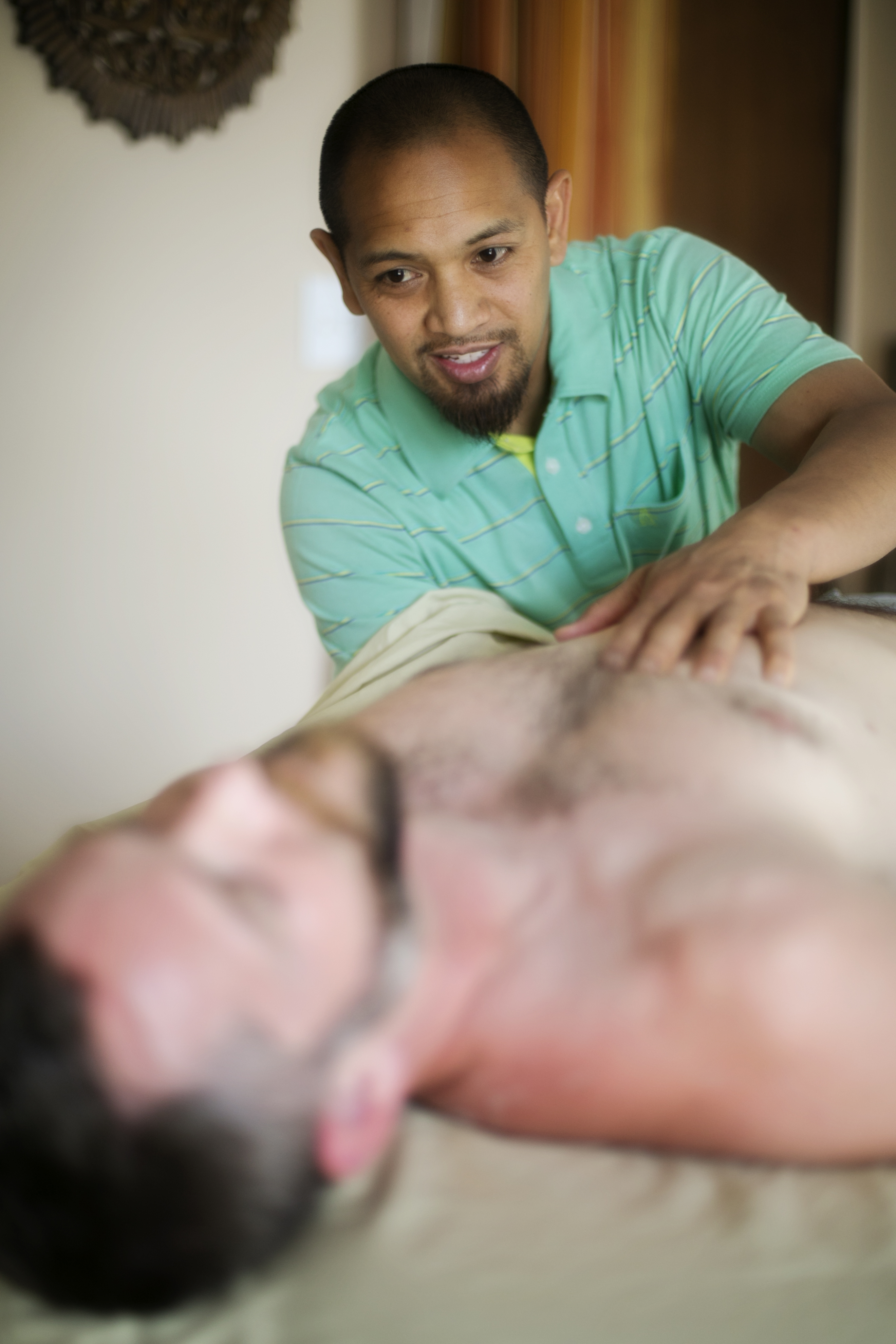 1. Schedule A Free 15 min Phone Consultation
Click the link and schedule a time that works well for you. You can describe what's going on, I'll describe how things at MedicinEvolution work, and with that we'll get a better sense of whether or not I think I can help. If I'm confident I can help you we'll book an in-person 1 hour assessment.
2. Book A Movement Assessment And Strategy Session
In this assessment we'll put together your relevant health history, active and passive assessment results, and make sense of why you're experiencing symptoms. You'll see the root cause of your problems and get some takeaways to begin to address your issues.
Choose A Program
Presuming that we're a good fit I'll give my recommendation for the program that I believe will help you get to the root of your problems, reconnect you to your body, and live pain-free!
You know that pain you're experiencing?
There's a story behind that. You can get out of it quickly and completely.
Let's change that story and create a new version. I'll show you how.
Chris Corrales, 
MedicinEvolution
Bodywork Beyond Massage
"The true challenge of medicine in our age is to find the level of the disturbance and to treat the issue there. To increase the body's structure, function, and adaptability is true health. The most powerful tool in this regard is to use gravity as the organizing principle that guides and informs the body in all of its processes."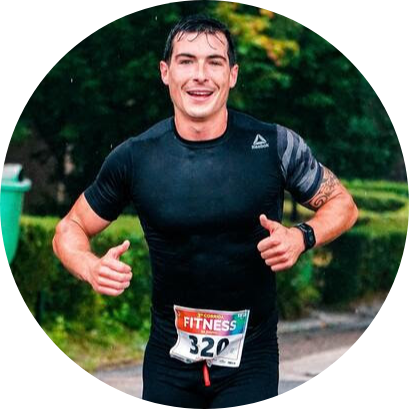 "Going downstairs was especially difficult and very painful. It sometimes took me minutes to stand up in the morning because my knees were so uncomfortable. This was almost certainly the result of heavy leg lifts and running 20 miles a week in fairly steep hills.
Now, not only can I easily negotiate stairs again, but I have recently jogged with zero after effects, an outstanding improvement that simply wasn't possible before!!"
Oliver P.
Livermore, California
_______________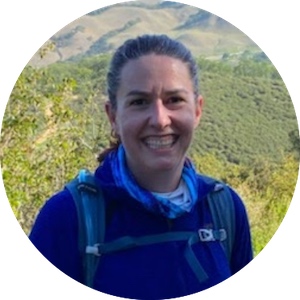 "After 20 years of back pain, I thought I had tried everything, including surgery, and nothing had worked long term until I met Chris!
I learned a lot about my body (and it's connection to my brain).
I'm now running regularly again, back in strength training class, and hiking every weekend, working my way up to a steep 14-mile hike that I completed PAIN-FREE."
Vicki Lombardo
Pleasanton, California
_______________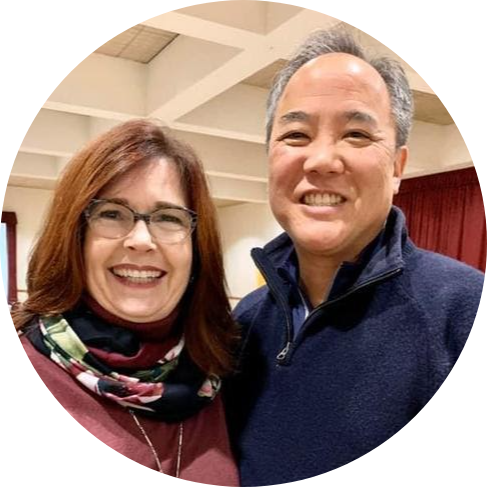 "I pinched a nerve in my shoulder that caused great pain to my shoulder/arm.
Ibuprofen and acetaminophen provided only temporary pain relief. A visit to my general practitioner resulted in a cortisone shot; again pain relief, but not a long-term solution.
The program was an interesting experience. Until then, I was basically a person with pretty poor awareness of how my body felt and how everything was interconnected. Going through it helped me understand things better. I'd never realized how 'tight' my body had become."
Keith Young
Oakland, California
_______________